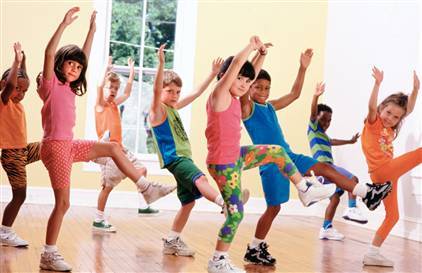 E
xperts advise that two hours a day watching television or playing video games should be the limit to ensure that kids can be more healthy, strong and creative.
Here is a list exercise or fun and easy ideas to help kids be active
(even without realizing it, many times, that they're exercising!)
1. Walking the dog
2. Walking the dog next door (with the permission of parents and the neighbor, of course)
3. Tracing a kite
4. Throwing a Frisbee
5. Ask your parents or grandparents to take you to a park or other area where you can make contact with nature
6. Bicycling
7. Riding a skateboard
8. If you have a yard, pick up litter or leaves in autumn
9. Weeding or weed
10. Rake the garden
11. Playing the leads
12. Hopscotch
13. Playing with a hula hoop and see who can hold for longer
14. Learn juggling
15. Jump rope
16. Visit the zoo, amusement park or museum (lots of walking)
17. Washing the car
18. Have each family member wear a pedometer and make a daily competition to see who gives more steps. The losers are the tasks of winning the next day.
19. Play basketball
20. Playing football
21. Playing softball or baseball
22. Playing Tennis
23. Have a water fight with bulbs
24. Wear your bathing suit and run around the shower.
25. Go swimming (never without an adult to supervise!)
26. Give the dog a bath. The bigger the dog, you do more exercises
27. Accompany to walk more (a grandparent, for example)
28. Prance.
29. Make pectoral
30. Make an exercise video and do a good workout
31. Tripping
32. Learning to play golf, or be otherwise caddy
33. Playing tennis
34. Playing mini-golf
35. Go bowling
36. Learn to spin a stick
37. Take a martial arts class and learn self-defense
38. Build a fort and play cowboys and Indians
39. If you have a two-story home or basement, move objects up and down, one at a time.
40. Playing career
41. Wash the windows
42. Clean Room
43. Learn yoga, whether in a class or a video
44. Brisk walk
45. Learn to dance